What clients are saying about Julia...
"Julia was amazing. She was extremely knowledgeable and gave me the time to really get to know me. I would highly recommend her service."
A massage with Julia is like falling into a huge pile of feathers.  The tensions and the "to-do" lists melt away after the first few minutes spent with the amazing healing touch of Julia. My relationship with Julia began last Fall at a book fair. The last thing I was expecting to find at a book fair was an amazing Licensed Massage Therapist and a lasting relationship. 
Although I walk into the appointment with various aches, pains, tensions, anxiety (to name a few!), without saying a word, Julia knows exactly what I need.  When I ask her how she knows precisely where to lead her touch and the amount of pressure to apply, she tells me that I have bright neon signs on my back that direct her to just the right spot!
Julia's soft and caring demeanor instantly relaxes you and makes you feel safe and cared for.  A massage session with Julia is not just a relaxing experience, but it is a time to heal in a natural way. Julia is a real gift to the field of massage therapy. I absolutely recommend Julia for a massage for your own health and well-being.
Arlene, January 31, 2017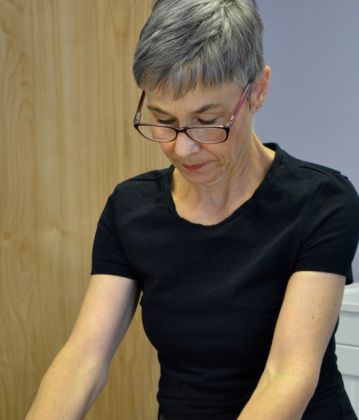 "The massage was amazing and I instantly felt all of the tension go away. Definitely am coming back soon."
I began seeing Julie over a year ago, after my double mastectomy and reconstruction.  Surgeries had left me with tight muscles and significant scar tissue on my right side, which impacted the results of my reconstruction.  Julie has been wonderful to work with!  She shows me things that I can do at home to improve my mobility and loosen the scar tissue.  She researches new techniques to try and shares them with me.  I am very happy with the results!  I used to think that massages were a special treat that you do once or twice a year.  Now I see them as an integral part of my health and well-being.
Janice, Saratoga Springs
I have had some real lingering issues with my back for over a year. I tried 3 different chiropractors with no results. I decided to try deep tissue massage, I had 2 deep tissue massages from another masseuse which helped some. I decided to try Julie, she was referred to me with a glowing review. Julie takes her time, explains what she is doing and really cares about your health. After a few massages, Julie's magic hands are making a real difference in my health.
Irene, Saratoga Springs
"Julia was absolutely amazing! She took her time and did an assessment to evaluate any imbalances so she knows where to start and what to focus on. She was also very friendly, personable, and it was like I've known her for years. The BEST massage I've ever had and I will definitely be going back and referring friends and family!"